Pukka Organic Wholistic Turmeric 30caps
---
Pukka Organic Wholistic Turmeric 30caps. Wholistic™ Turmeric is a broad-spectrum formula that contains the highest organic grade, sustainably cultivated and fairly traded herbs, carefully selected to bring you the full potential of nature's goodness.
Pukka Wholistic™ Turmeric capsules retain curcuminoids, turmeric essential oils and a full range of turmeric actives. This means we harness the effects of all 200 of turmeric's bioactive compounds, not just those of the curcuminoids.
Unique wholistic extraction process enhances absorption and substantially increases potency.
Product description
INGREDIENTS

Turmeric root 50%, Turmeric root wholistic extract 40%, Long Pepper fruit 5%, Nutrigest™ Seagreens Arctic fresh seaweed, Ginger root, Spirulina, Vegetable cellulose capsule (hydroxypropyl methyl cellulose).

Take 1-2 capsules a day with water or Pukka organic Aloe Vera Juice before food

Keep out of reach of young children. Seek professional advice during pregnancy. Do not exceed the recommended daily intake. Do not use this product as a substitute for a varied diet.
---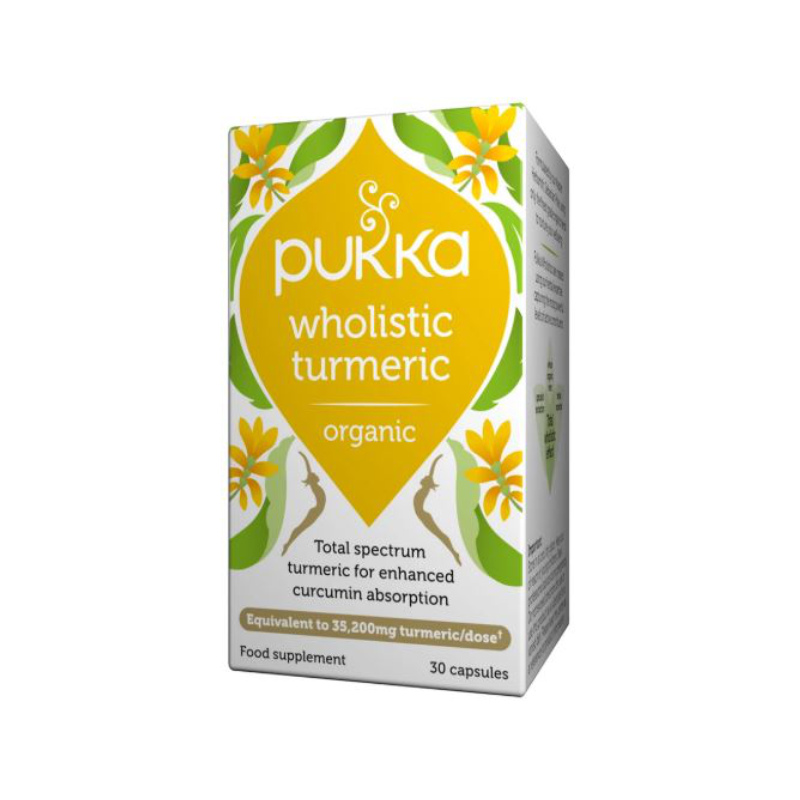 Recommend this product to a friend
Pukka Organic Wholistic Turmeric 30caps