Pukka Organic Ashwagandha 30caps
---
Pukka Organic Ashwagandha 30caps. Wholistic™ Ashwagandha is a natural formula to nourish the mind and relax the nervous system.
As busy modern living puts increasing pressure on the mind, it can leave us feeling tense, overwhelmed and in need of some recuperation. Ashwagandha, the herb of modern life, is one of Ayurveda's most prized adaptogenic herbs; it is known as 'rasayana' meaning rejuvenate. It has been used for centuries to moderate the body's response to stress, bringing both energy and inner calm. By nourishing a worried mind and relaxing the nervous system, the body is rebalanced and ready to tackle life's challenges.
Pukka's organic Wholistic™ Ashwagandha uses a unique extraction process to retain all 45+ active compounds. This ensures a powerful, concentrated extract that maximises the synergistic benefits.
INGREDIENTS
Ashwagandha root (63%),Wholistic™ extract from Ashwagandha root* ** (30%), Nutrigest™ Seagreens Fresh Arctic Seaweed*, Ginger root*, Spirulina*, vegetable cellulose capsules (hydroxypropylmethylcellulose).
* certified organic
1-2 capsules daily (600 mg / capsule) with food, water or with aloe vera juice.
The recommended daily intake should not be exceeded. The product does not replace a balanced, varied diet. for pregnancy, medical advice is recommended.
---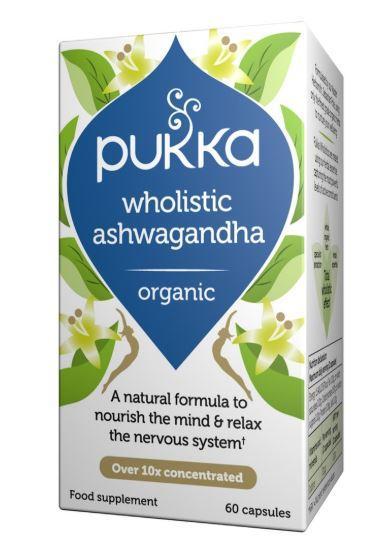 Recommend this product to a friend
Pukka Organic Ashwagandha 30caps